SEARCH
when you need our product,simply enter the name of the product you are looking for to continue.
Phone:0086-371-63838939
Email:sales@sunriserefr.com
Office Address: No.36 Fengchan Road Of Zhengzhou, Henan, China (Mainland)
Products Center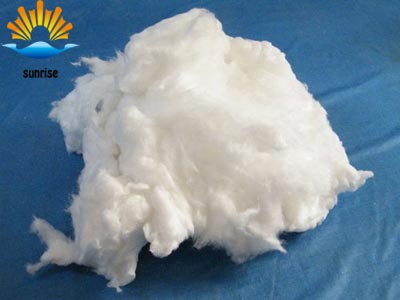 ceramic fiber bulk
Classification temperature:

1260℃

Melting point:

1760℃

Fiber diameter:

2.8 u m

Fiber length:

~250 mm

Specific gravity:

2600 Kg/m3
Overview
Fibre bulks also provide stability and resistance to chemical attack, however, exceptions include hydrofluoric acid, phosphoric acid and strong alkalies (i.e. NaOH, KOH).

Fibre bulks are unaffected by incidental spills of oil or water and their thermal and physical properties are restored after drying. They are designed from raw material Calcium-Magnesium-Silicate (CMS) and can be altered to achieve a customer's desired properties of fibre diameter, shot content, fibre length and form.
Fibre bulks have excellent features such as low biopersistance and heat storage, thermal stability and god resistance to tearing. This material is flexible and resilient, immune to thermal shock and has an excellent thermal insulating performance.
These bulks are ideally suited to individual applications and are available in chopped, un-chopped, lubricated, non-lubricated forms. The maximum continuous use temperature depends on the application.

Traditional applications are:
♦ Expansion joints construction;
♦ Base seals;
♦ Low mass kiln car construction;
♦ Tube seal fabrication;
♦ Thermal and acoustical insulation;
♦ As primary raw material for high temperature converted and engineering fibers.

Application:
♦ Raw material of secondary ceramic fiber products e.g. blanket, paper, board, shapes…
♦ Expansion joint seal;
♦ Temporary repair of insulation;
♦ Loose insulating fill for complex spaces and areas where access is difficult;
♦ Fiber reinforcement for insulating concretes and cements.
Technical Data
Item
1260 Bulk
1400 Bulk
1450 Bulk
1600 Bulk
Classification temperature (℃)
1260
1400
1500
1600
Melting point (℃)
1760
1700
1760
-
Colour
White
White
Blue gree
White
Fiber diameter (u m)
2.8
2.8
2.8
3.1
Fiber length (mm)
~250
~250
~150
~100
Specific gravity (Kg/m3)
2600
2600
2650
3100
Shot content (>212 micro meter) (%)
18
18
Thermal conductivity Kcal/mh ℃ (W/mK) ,ASTM C201, 190kg/m3
mean 400℃
0.08
0.08
mean 600℃
0.12
0.12
mean 800℃
0.16
0.16
mean1000℃
0.23
Chemical composition
Al2O3
47.1
35.0
40.0
72
SiO2
52.3
49.7
58.1
28
ZrO2
15.0
Cr2O3
1.8
Packing (Kg/box)
10,20
Inquiry
If you have any needs our help or are interested in our products, you can click online advisorychat with us online, or call our customer service telephone: 0086-0371-63838939. We will sincerely serve for you!