SEARCH
when you need our product,simply enter the name of the product you are looking for to continue.
Phone:0086-371-63838939
Email:sales@sunriserefr.com
Office Address: No.36 Fengchan Road Of Zhengzhou, Henan, China (Mainland)
Products Center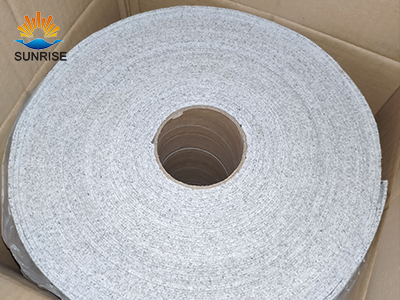 Expanded graphite ceramic fiber paper
Temperature:

1260℃

Density:

220-250kg/m3

Expansivity:

2-3times
Overview
Product Description:
Expanded graphite ceramic fiber paper is made of high quality ceramic fiber cotton and expanded graphite as raw materials, through beating, mixing, adhesive, molding, drying, cutting, packaging and other processes.High expansion rate makes the product seal better.It can be used in electric furnace, automobile, aerospace, casting and other fields.

Overcome the shortcomings of ceramic fiber in high temperature contraction, when heated to a temperature of 500 degrees, the expansion of the apparent effect, 5-6 times until the expansion to the original ones, because have enough expansion ratio, trusted by the sealing industry, especially is widely used at present and car muffler sealed insulating material, according to the demand of course can also be customized different expansion ratio of expanded graphite fiber paper.Bulk density, thickness and expansion multiple can be flexibly adjusted and customized according to the application requirements.Both have good toughness, expansion performance, good elasticity, strong machinability and so on.Suitable for heat insulation, sealing and insulation under high temperature environment .

Product Characteristics:
♦ Asbestos free,safety and encironmental protection ;
♦ Low thermal conductivity,Low thermal capacity ;
♦ Light Weight ;
♦ Excellent thermal stability and resistance to heat-shock ;
♦ High expansivity,2-3times,good sealing effect ;
♦ Soft, high tearing strength ;
♦ Excellent sound proof, heat insulation .

Application:
♦ Industrial casting thermal insulation ;
◆The oven door seal ;
◆ Automobile muffler exhaust pipe insulation ;
◆ The machine noise.
Technical Data
Physical and chemical indicators
Product name
Expanded graphite ceramic fiber paper
Temperature℃

1260
Density kg/m3
220-250
Expansivity
2-3times
Size
60000*610/1220*1mm;
30000*610/1220*2mm,
20000*610/1220*3mm;
15000*610/1220*4mm;
12000*610/1220*5mm;
10000*610/1220*6mm;
Other size can customized
Package
Cartons
Inquiry
If you have any needs our help or are interested in our products, you can click online advisorychat with us online, or call our customer service telephone: 0086-0371-63838939. We will sincerely serve for you!