SEARCH
when you need our product,simply enter the name of the product you are looking for to continue.
Phone:0086-371-63838939
Email:sales@sunriserefr.com
Office Address: No.36 Fengchan Road Of Zhengzhou, Henan, China (Mainland)
Products Center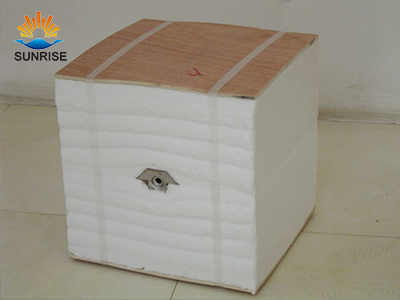 ceramic fiber module
Operating Temperature:

950℃

Density:

190-240 kg/m3

Common Size:

300*300*300mm
Overview
Product Description:
Sunrise ceramic fiber module is a pre-compression and insulation unit made by folding and compressing double-sided needling fiber blanket, adding anchor drawings and constraint accessories.In the process of processing, a certain proportion of compression quantity is maintained to ensure the expansion of the ceramic fiber folding modules in the compression direction after the completion of the ceramic fiber folding wall lining, so that the modules are squeezed into a seamless whole, effectively compensate the thermal shrinkage of the fiber, and improve the overall adiabatic performance of the furnace lining.Ceramic fiber folding modules can be directly fixed on the steel plate anchorage nails in the industrial furnace shell through various forms of enclosures.The product has white color, regular size, good fire resistance and heat insulation effect, simplifies and speeds up the kiln construction, improves the furnace lining integrity, and promotes the kiln masonry technology.According to the different use environment, the module working face can be coated with surface treating agent to improve the module high temperature performance.

Product Characteristics:
◆ Excellent thermal insulation performance, low thermal conductivity, good energy-saving effect;
◆ Good thermal shock resistance and thermal airflow shock resistance;
◆ Excellent elasticity: the module is in the pre-pressure state. After the lining is laid, the expansion of the module makes the lining seamless and compensates the shrinkage of the fiber lining, so as to improve the adiabatic performance of the fiber lining and the overall performance is good;
◆ Light weight makes the furnace structure light;
◆ The anchoring parts are arranged on the cold wall lining surface, which can reduce the material requirements of the anchoring parts;
◆ Easy to install and use: the lining does not need to be dried and maintained, so it can be put into use immediately after installation, shortening the time of furnace building.

Application:
◆ Thermal insulation lining of cracking furnace in petrochemical industry;
◆ Steel ladle cover, well cover, heating furnace, sheet annealing furnace, continuous annealing furnace, roller bottom furnace, hood furnace, flue and other heat preservation and insulation;
◆ Lining in nonferrous metallurgy industry;
◆ Lining insulation for kilns in building materials industries such as ceramics and glass;
◆ Industrial heat treatment furnace lining insulation, heat preservation and heat insulation for large boilers;
◆ Incineration equipment and chimney lining.

Technical Data
Physical and chemical indicators
Type
Common1100
Standard1260
HA1300
HZ1430
Operating Temperature (℃)
950
1100
1200
1300
Density (kg/m3)
190-240
Al2O3
40-43
44-47
51-53
*
Al2O3+SiO2
≥96
≥99
99
*
Al2O3+SiO2+ZrO2
*
*
*
*
ZrO2
*
*
*
15-17
Fe2O3
≤0.5
≤0.2
≤0.2
≤0.2
Na2O+K2O
≤0.5
≤0.25
≤0.25
≤0.25
Common Size (mm)
300*300*300mm;
300*300*250mm;
300*300*200mm;
Other size can customized
Package
Cartons
Inquiry
If you have any needs our help or are interested in our products, you can click online advisorychat with us online, or call our customer service telephone: 0086-0371-63838939. We will sincerely serve for you!