SEARCH
when you need our product,simply enter the name of the product you are looking for to continue.
Phone:0086-371-63838939
Email:sales@sunriserefr.com
Office Address: No.36 Fengchan Road Of Zhengzhou, Henan, China (Mainland)
Products Center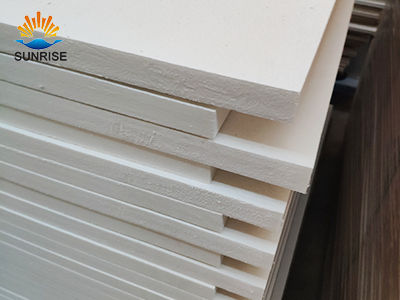 Inorganic Ceramic Fiber Board
Operating Temperature:

1100℃

Density:

280-500(kg/m3)

Coefficient of thermal conductivity(900℃):

0.09W/(m.k)

Cold Crushing Strength:

0.14(Mpa)

Compresion strength after calcination:

0.16(900℃*12h)
Overview
Product Description:
Sunrise inorganic ceramic fiber edition adopts high-purity ceramic fiber cotton as raw material, which is formed in one body by advanced technology, without secondary calcination and without organic matter.The new inorganic ceramic fiberboard has high strength and is smokeless and tasteless after being exposed to open fire, high temperature and high heat.Accurate size, low thermal conductivity, low slag ball content, minimal thermal shrinkage.Can be made according to the requirements of special-shaped pieces, ovens, wall hanging furnace and other ideal environmental protection insulation materials.

Product Characteristics:
◆ Low shot content;
◆ No organic matter: direct contact with flame, high temperature and heat radiation;
◆ One time one-piece forming,accurate size;
◆ Extremely low thermal conductivity: only half that of traditional ceramic fibreboard;
◆ Heat shrinkable, no deformation at high temperature, cutting and drilling, convenient construction;
◆ High compressive strength: the strength does not change after high temperature sintering;
◆ Energy saving and environmental protection: high temperature, smokeless, tasteless and in line with environmental protection requirements.

Application:
◆ Heat insulation and heat preservation for high temperature and high heat equipment;
◆ Thermal insulation for industrial kilns;
◆ Wall hanging stove, electric stove, oven, home appliances heat insulation.

Technical Data
Physical and chemical indicators
Product name
1260 Inorganic Ceramic Fiber Board
Operating Temperature (℃)
1100
Density (kg/m3)
280-500
Coefficient of thermal conductivity W/(m.k)
0.09(900℃)
Cold Crushing Strength (Mpa)
0.14
Compresion strength after calcination(900℃*12h)
0.16
Heating Permanent Change Line(900℃*12h)%
-0.7
Size
1000*600*3-50mm;
1200*500*3-50mm;
1200*1000*3-50mm;
Other size can customized
Package
Wooden pallet and then polyethylene film is placed over it, finally the package is tied up with strips.
Inquiry
If you have any needs our help or are interested in our products, you can click online advisorychat with us online, or call our customer service telephone: 0086-0371-63838939. We will sincerely serve for you!