SEARCH
when you need our product,simply enter the name of the product you are looking for to continue.
Phone:0086-371-63838939
Email:sales@sunriserefr.com
Office Address: No.36 Fengchan Road Of Zhengzhou, Henan, China (Mainland)
News & Events
The Advantages of Ceramic Fiber Module Used In the Kiln
Date:
2016-12-29 17:11
|
From:
Zhengzhou Sunrise Refractory
|
Author:
admin
The advantages of ceramic fiber module used in the kiln
At present,
ceramic fiber module
made by using aluminum silicate ceramic fiber blanket and by the compression, is its high temperature resistance, easy construction, and many other
advantages and gradually become a modern industrial furnace lining heat insulation of refractory material.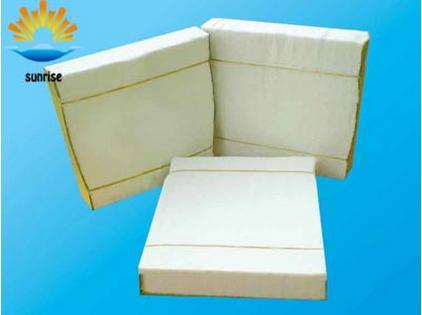 Product Features:
1. After releasing the tying, folded blanket will put great stress, each other tightly closed without leaving any gap.
2. The high elasticity of ceramic fiber blanket can compensate for the shell deformation, reduce construction costs. At the same time, it can make up for different components within the furnace
due to thermal changes arising from the gap.
3. Due to light weight, low heat capacity (the light heat-resistant lining and lightweight refractory brick is only 1/10), can significantly reduce the energy consumption of furnace temperature control.
4. With flexible ceramic fiber blanket, can resist mechanical external force.
5. Has the ability to resist any thermal shock.
6. The lining does not need to dry and conserve, after lining construction finished, and can be put into use.
7. Chemical performance is stable. In addition to phosphoric acid, hydrofluoric acid and alkali, the other acid, alkali and water, oil, steam are not e
If you have any needs our help or are interested in our products, you can click online advisorychat with us online, or call our customer service telephone: 0086-0371-63838939. We will sincerely serve for you!