SEARCH
when you need our product,simply enter the name of the product you are looking for to continue.
Phone:0086-371-63838939
Email:sales@sunriserefr.com
Office Address: No.36 Fengchan Road Of Zhengzhou, Henan, China (Mainland)
Products Center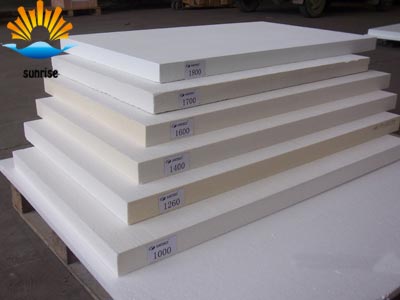 ceramic fiber board
Operating Temperature:

1100℃

Density:

280-320 kg/m3

LOI:

<8%

Al2O3:

42-45

Al2O3+SiO2:

≥98
Overview
Product Description:
Sunrise ceramic fiber board is made of ceramic fiber bulk as the main raw material through fiber treatment, slag removal, vacuum molding and other processes.The product is hard in texture, strong in toughness and strength, light in weight and resistant to heat shock and spalling, with excellent resistance to wind erosion.Low shot content, accurate size, arbitrary shear, heating without expansion, convenient construction.Good uniformity of bulk density, hardness and strength from inside to outside.It is widely used in all kinds of furnace density interior and exterior wall fire insulation, as well as heat insulation of high temperature air scour part, it is the ideal insulation and energy saving material.

Product Characteristics:
◆ Low thermal conductivity, low thermal capacity;
◆ Excellent thermal stability and thermal shock resistance;
◆ Folding resistance, high compressive strength, and good toughness;
◆ Good post-firing strength and resistance to hot gas erosion;
◆ Easy to install and use.

Application:
◆ Industrial kiln wall lining, masonry insulation layer;
◆ High temperature kiln lining, kiln car, furnace door baffle, furnace temperature partition;
◆ Heat insulation and heat preservation for high temperature and high heat equipment;
◆ Aerospace and shipbuilding industries heat insulation, fire, sound insulation, insulation;
◆ Fire damper plate and fire damper door in kiln.

By industry:
◆ Steel industry: expansion joints, backing insulation, heat shields and cast cross insulation;
◆ Non-ferrous metal industry: backlined thermal insulation materials, tundish and flume cover, used for casting copper and copper-containing alloys;
◆ Ceramic industry: lightweight kiln car structure and furnace hot surface lining, furnace temperature separation and fire protection materials;
◆ Glass industry: molten pool back lining insulation, burner block;
◆ Kiln building: hot face refractory (instead of fiber blanket), heavy refractory backing, expansion joints;
◆ Light industry: Lining of industrial and domestic boiler combustion chamber;
◆ Petrochemical industry: hot surface material for high-temperature furnace lining;
◆ Building materials industry: cement rotary kiln and other equipment insulation.
Technical Data
Physical and chemical indicators
Type
Standard1260
>HA1300
HZ1430
Operating Temperature (℃)
1100
1200
1350
Density (kg/m3)
280-320
Coefficient of thermal conductivity W/(m.k)
0.085(W/m.k) 400℃
0.132(W/m.k) 800℃
0.18(W/m.k) 1000℃
LOI (%)
<8
Al2O3
42-45
52-53
32-33
Al2O3+SiO2
≥98
≥99
-
Al2O3+SiO2+ZrO2
-
-
99
ZrO2
-
-
≥15
Fe2O3
≤1.0
≤0.3
≤0.2
Na2O+K2O
≤0.5
≤0.3
≤0.2
Common Size (mm)
1000*600*10-100;
1200*500*10-100;
1200*1000*10-100,
Other size can customized
Package
Wooden pallet and then polyethylene film is placed over it, finally the package is tied up with strips.
Inquiry
If you have any needs our help or are interested in our products, you can click online advisorychat with us online, or call our customer service telephone: 0086-0371-63838939. We will sincerely serve for you!