SEARCH
when you need our product,simply enter the name of the product you are looking for to continue.
Phone:0086-371-63838939
Email:sales@sunriserefr.com
Office Address: No.36 Fengchan Road Of Zhengzhou, Henan, China (Mainland)
News & Events
Why Sunrise Refractory Ceramic Blanket is Your Best Choice in China?
Date:
2019-05-08 16:34
|
From:
Zhengzhou Sunrise Refractory
|
Author:
admin
Sunrise refractory ceramic blanket is composed of long, flexible, interwoven fibres manufactured by the 'blown' and 'spun' process yielding a strong, lightweight yet durable fiber blanket for applications in a temperature range from 1260oC to 1600oC. Sunrise Refractory ceramic fibre blanket has the heat resistance of a hard refractory with five times better insulation value.
If you need industrial high temp insulation, the best option is to use ceramic fiber insulation. More specifically, if you require insulation for low heat storage and complete resistance to thermal shock, then you will want to use a ceramic fiber blanket. In China, we are the leading ceramic fiber insulation suppliers and we carry a wide selection of high temperature ceramic insulation for your needs. Our ceramic fiber blanket provide high temp insulation for temperatures of 2300 °F to 2600°F.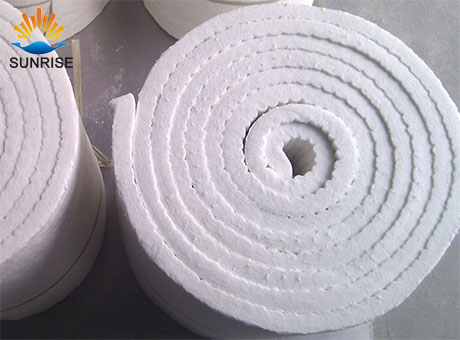 They also come in three standard grades of ceramic fiber blanket; HP Grade or Zirconia Grade. Our ceramic fiber insulation suppliers also offer a choice in density with options that range from 6 to 8 pounds and also various widths and lengths. Our blankets are produced from high strength spun ceramic fibers and as a result, provide for you the best handling strength.
A ceramic fiber blanket is ideal to use when working with furnaces, boilers, nuclear insulation and high temperature pipe insulations. Our products are thermally efficient and lightweight making them an ideal choice in your insulation needs. For any assistance on ordering our ceramic fiber blanket and other high temperature ceramic insulation, connect with us and you will get more information about it.
If you have any needs our help or are interested in our products, you can click online advisorychat with us online, or call our customer service telephone: 0086-0371-63838939. We will sincerely serve for you!