SEARCH
when you need our product,simply enter the name of the product you are looking for to continue.
Phone:0086-371-63838939
Email:sales@sunriserefr.com
Office Address: No.36 Fengchan Road Of Zhengzhou, Henan, China (Mainland)
News & Events
High Quality Ceramic Fiber Blankets For Sale are Popular All Over The World
Date:
2019-05-31 17:30
|
From:
Zhengzhou Sunrise Refractory
|
Author:
admin
Zhengzhou Sunrise Refractory Material Co., Ltd. is a professional enterprise engaged in the production, management and construction of ceramic fiber. The company mainly produces crystal fiber strips, ceramic fiber cotton, ceramic fiber blanket, ceramic fiber felt, ceramic fiber board, ceramic fiber paper, aluminum silicate fiber blanket, thermal insulation board (Watt), ceramic fiber shaped parts, ceramic fiber module More than 100 kinds of products, such as ceramic fiber castables, anchors, high temperature binders, covering 1050, 1260, 1400, 1600 four kinds of temperature resistance grades, widely used in aluminum plants, steel plants, power plants, carbon, ceramic glass, High-temperature industrial furnaces such as blast furnace, ladle, calcination, rotary kiln, combustion chamber, roasting chamber and electrolytic cell in petrochemical cracking furnace industry, the energy-saving effect is very obvious.
Sunrise refractory ceramic fiber blanket is continuously produced. After needle punching and heat setting, the fiber is evenly interwoven and has high tensile strength and does not contain any binder. We will design acupuncture blankets of different bulk density and thickness to provide users with a wide range of materials to obtain the best insulation structure and benefits.
Sunrise refractory ceramic fiber blanket has good chemical resistance (hydrofluoric acid, phosphoric acid and strong base Na2O, except K2O). Not only that, the performance of Sunrise refractory ceramic fiber blanket is not affected by oil erosion, and its thermal properties and physical properties can be restored after drying.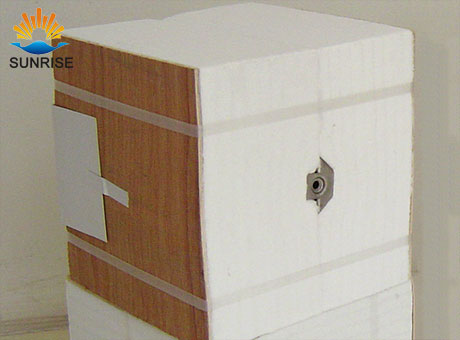 Our ceramic fiber blankets are widely used in industrial kiln wall linings, backing materials, kiln masonry expansion joints, furnace doors, roof insulation insulation; high temperature pipelines, oil storage tanks, ships, large heating Equipment such as external thermal insulation materials; refractory fiber modules, folding block processing materials and many other aspects.
The company's products have passed ISO9001-2008 quality management system certification. Strong technical force, innovative and strong development. In particular, the high-strength refractory ceramic fiber blanket, ceramic fiber cotton, ceramic fiber felt, ceramic fiber board and ceramic fiber paper developed and produced by our company are in the leading position in the same industry at home and abroad, and are highly praised by customers all over the world.
If you have any needs our help or are interested in our products, you can click online advisorychat with us online, or call our customer service telephone: 0086-0371-63838939. We will sincerely serve for you!