SEARCH
when you need our product,simply enter the name of the product you are looking for to continue.
Phone:0086-371-63838939
Email:sales@sunriserefr.com
Office Address: No.36 Fengchan Road Of Zhengzhou, Henan, China (Mainland)
News & Events
Sunrise Refractory Aluminum Silicate Acupuncture Blankets
Date:
2019-05-24 17:25
|
From:
Zhengzhou Sunrise Refractory
|
Author:
admin
Sunrise refractory aluminum silicate acupuncture blanket adopts advanced CWCN equipment and double-sided needle-punching carpet assembly line, and its equipment and production process are at the leading level. Various aluminosilicate fiber needle-punched blankets are made of different materials (such as coke gems, SIO2, AL203, zircon sand, etc.). The fibers are made by sedimentation, heat setting, vertical and horizontal cutting, and rolling. to make. The texture is uniform, the surface is flat, and the tensile strength is excellent. Since the aluminum silicate needle blanket itself does not contain a binder, the heat resistance is greatly improved.
Our Sunrise refractory aluminum silicate acupuncture blanket has many product characteristics that are not available in similar industries.
1. Low thermal conductivity and low heat capacity.
2. Excellent thermal shock resistance and thermal stability.
3. High compressive strength and good toughness.
4. Excellent machining performance.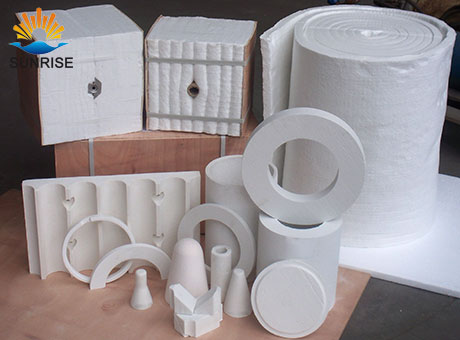 Our Sunrise refractory is suitable for many fields. For example: electric boiler, gas turbine and nuclear power insulation; wall lining of high temperature reaction equipment and heating equipment in chemical industry; high temperature pipeline, shaped pipeline, industrial kiln wall lining. The welded parts are insulated against stress. Shaped metal castings eliminate the insulation of the enamel. The top cover of the furnace door is insulated.
Our sunrise refractory company assures it's customers, the commitment for supply of undisputed quality Sunrise refractory aluminum silicate acupuncture blankets through it's modern facilities and experienced professionals through a philosophy of continual improvement. Our advantages also including about reliable quality, competitive price and prompt delivery, so that make our Sunrise refractory aluminum silicate acupuncture blankets popular both at home and abroad.
If you have any needs our help or are interested in our products, you can click online advisorychat with us online, or call our customer service telephone: 0086-0371-63838939. We will sincerely serve for you!