SEARCH
when you need our product,simply enter the name of the product you are looking for to continue.
Phone:0086-371-63838939
Email:sales@sunriserefr.com
Office Address: No.36 Fengchan Road Of Zhengzhou, Henan, China (Mainland)
The Structure of Ceramic Fiber Board
Date:
2016-07-12 11:14
|
From:
Zhengzhou Sunrise Refractory
|
Author:
admin
The
ceramic fiber board
is made of high-quality flint which is melted at 2000℃ in an electric furnace and then blown into fiber by machine. Special binders, oil-proof agents and water repellents are added.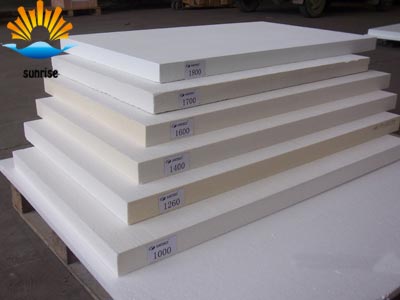 It is usually used in the power Industry, power boilers, shipbuilding industry, construction industry, chemical industry, steam turbine and nuclear industry.
Ceramic fiber board is composed of adhesive layer, insulating layer, rendering coat, decorative layer and accessories.
The adhesive layer is between the bottom layer and the surface layer. It is bonded with cementitious materials. It is filled with inorganic materials.
The insulation layer is used to reduce heat loss. The insulation layer wrapped on the turbine and pipes is filled with flint, organic materials and water as well as binders.
Lightweight functional coatings such as plasters and mortar and water-based wall paint with outstanding breathability are recommended. It can keep the board light and increase its aesthetics.
A variety of paints are mainly added accessories. They can increase the color of the surface of the board and have good fire resistance and insulation effect. They can be used in any environment.
If you have any needs our help or are interested in our products, you can click online advisorychat with us online, or call our customer service telephone: 0086-0371-63838939. We will sincerely serve for you!