SEARCH
when you need our product,simply enter the name of the product you are looking for to continue.
Phone:0086-371-63838939
Email:sales@sunriserefr.com
Office Address: No.36 Fengchan Road Of Zhengzhou, Henan, China (Mainland)
News & Events
What are Ceramic Fiber Vacuum Formed Shapes?
Date:
2016-01-13 10:59
|
From:
Zhengzhou Sunrise Refractory
|
Author:
admin
Ceramic fiber vacuum formed shapes
are made from refractory ceramic fiber, attending inorganic and suitable organic binders. The mixture is vacuum processed into boards or formed shapes that keep good mechanical strength after heating.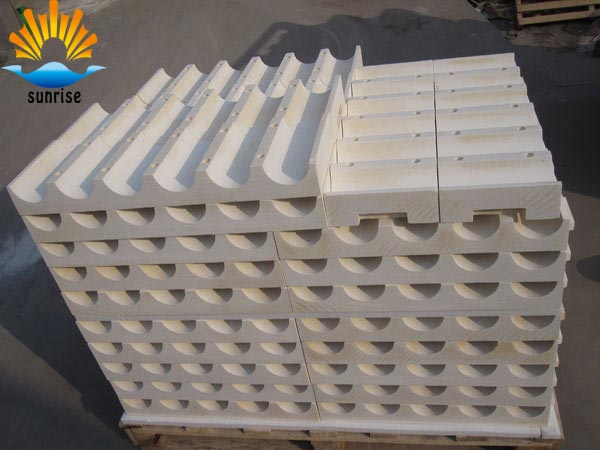 According to its classification temperature, these products can be separated into 1000℃, 1260℃, 1400℃, 1600℃ and 1700℃.
Ceramic fiber vacuum formed shapes have excellent high temperature rigidity and self-supporting strength. Each product, according to its form and size, need a special mold. According to its performance requirement, different binders and additives are selected to meet its requirements.
All ceramic fiber vacuum formed shapes have low shrinkage within its operating temperature range, high insulation, lightweight and impact resistance. Unburned material can easily be cut or machined.
During use, ceramic fiber vacuum formed shapes has good resistance to wear and spalling. They are not wet by most molten metal.
There are a variety of sizes and shapes available, including the tubular, the tapered, dome-shaped and box-shaped. Most products can be made in accordance with the requirements of customers,
Generally, ceramic fiber vacuum formed shapes has similar physical and thermal properties to the vacuum formed plates of the corresponding level. If desired, vacuum forming hardener or refractory clay can be applied on the products as a protective layer.
Ceramic Fiber Vacuum Formed Shapes are widely used in the back-up lining of high-temperature industry furnaces, hot-face lining of ceramic kilns, heat-treatment furnaces and other industrial kilns and insulation for furnace door and kiln car.
If you have any needs our help or are interested in our products, you can click online advisorychat with us online, or call our customer service telephone: 0086-0371-63838939. We will sincerely serve for you!