SEARCH
when you need our product,simply enter the name of the product you are looking for to continue.
Phone:0086-371-63838939
Email:sales@sunriserefr.com
Office Address: No.36 Fengchan Road Of Zhengzhou, Henan, China (Mainland)
News & Events
Factors for the Service Life of Ceramic Fiber Board
Date:
2016-01-05 10:56
|
From:
Zhengzhou Sunrise Refractory
|
Author:
admin
Ceramic fiber board
has good properties and performance and is widely used in many industries. The followings are some factors for the service life of ceramic fiber board.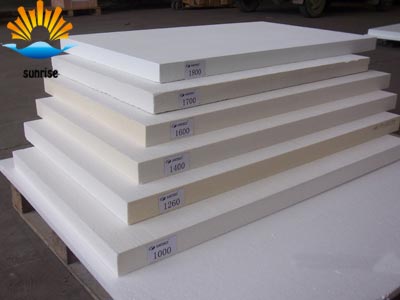 1. The initial pressure
Ceramic fiber board is difficult to maintain the vacuum. The initial pressure of most boards is 10Pa. This vacuum degree is the typical target value. Maintain the vacuum degree in the board is the key factor determining the performance of VIP.
2. Gas permeability of barrier films
The barrier film can effectively prevent air and vapor penetrating into the board, maintain the vacuum degree in the board and maintain the thermal conductivity of the VIP. Therefore, the selection of the barrier films is important for the performance and service life of VIP.
3. Gas release of the core material and barrier films
Most materials will release gas in a vacuum environment, which will increase the pressure in the board. In some cases, the amount of released gas even exceeds the amount of gases in the board. Therefore, the selection of core material and barrier films affects or even determines the service life of VIP.
4. Edge permeability of barrier films
All ceramic fiber boards are composed of core gas barrier layers formed by edge sealing with barrier films. However, since the edges are sealed by hot pressing, the edge sealing cannot barrier gases and vapor as well as the barrier film itself.
5. The influence of the pressure increase on the core materials
The high heat resistance of ceramic fiber board relies on the vacuum degree. Its heat resistance decreases with the vacuum degree in the board. However, the increasing or decreasing of heat resistance is up to the type of core materials. The thermal conductivity of the core materials varies with the pressure. Therefore, the insulation performance of ceramic fiber board is quite different.
If you have any needs our help or are interested in our products, you can click online advisorychat with us online, or call our customer service telephone: 0086-0371-63838939. We will sincerely serve for you!