SEARCH
when you need our product,simply enter the name of the product you are looking for to continue.
Phone:0086-371-63838939
Email:sales@sunriserefr.com
Office Address: No.36 Fengchan Road Of Zhengzhou, Henan, China (Mainland)
News & Events
Zhengzhou Sunrise refractory material -- China high-temperature energy-saving materials pilot brand
Date:
2019-04-02 16:41
|
From:
Zhengzhou Sunrise Refractory
|
Author:
admin
Zhengzhou Sunrise Refractory Co., Ltd. is dedicated to the design, consultation, product, construction and after-sales service of 600°C-1400°C temperature range for industrial furnaces and thermal furnaces. It is the first batch of China's first manufacturer of thermal insulation materials for aluminum silicate ceramic fiber products. The factory is located in the refractory base - Zhengzhou, Henan!
The ceramic refractory products mainly produced by our Sunrise refractory materials include: aluminum silicate ceramic fiber module, ceramic fiber blanket, nano heat insulation board, nano microporous insulation board, aerogel felt, nano thermal insulation felt, nano composite reflection board, etc. Aluminum silicate ceramic fiber insulation material and nano insulation material.
Sunrise refractory ceramic fiber blankets have the advantage of these products. The ceramic fiber product is made of 2000°C high-temperature clean fused, fused silk, and sprayed with high-temperature resistant alumina powder. The size is regular and the structure is stable. It has good fire-resisting and heat-insulating effect, is not affected by rapid cooling and heat, and has high strength and acid and alkali corrosion resistance.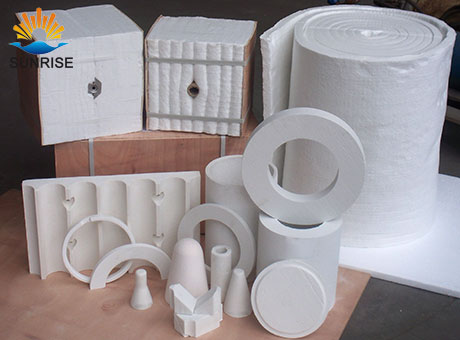 Not only that, but our company also has many research and development advantages that our peers do not have. Sunrise refractory material is supported by a large R&D team. It has 2 senior engineers and 8 engineers. It continuously develops high-quality kiln lining insulation technical solutions and updates product quality technology, and maintains the core of the new products and new technologies.
Zhengzhou Sunrise Refractory Co., Ltd. has been producing and selling the highest quality and lowest price ceramic fiber blankets, and has established a good reputation and model in the field of refractory materials. Our company sincerely welcomes domestic and foreign customers to conduct on-the-spot investigations based on the principle of honesty and pragmatism, and looks forward to working with you.
If you have any needs our help or are interested in our products, you can click online advisorychat with us online, or call our customer service telephone: 0086-0371-63838939. We will sincerely serve for you!