SEARCH
when you need our product,simply enter the name of the product you are looking for to continue.
Phone:0086-371-63838939
Email:sales@sunriserefr.com
Office Address: No.36 Fengchan Road Of Zhengzhou, Henan, China (Mainland)
The Superiority of Sunrise Refractory Ceramic Fiber Board For Sale
Date:
2018-11-30 14:57
|
From:
Zhengzhou Sunrise Refractory
|
Author:
admin
In recent years, due to the continuous rise in global energy prices, in this context, ceramic fibers board that are 10-30% more energy-efficient than traditional refractory materials such as insulating bricks and castables have been applied more and more widely. The development prospects are very promising.

Ceramic fibre is a lightweight insulating product. It has low thermal mass which means that it does not retain heat, low thermal conductivity and is an extremely effective insulation material. Its high thermal shock resistance make it suitable for applications where traditional refractories cannot be used. So called refractory ceramic fibre is made from high purity alumino-silicate materials. Ceramic fiber is produced by melting these products in an electric arc furnace, a stream is poured and cooled to form the fibre strands from which the ceramic fibre products are produced. Sunrise refractory ceramic fibre is available in many forms and densities including:

Ceramic fibre blanket, ceramic fibre modules, ceramic fibre paper, ceramic fibre board, ceramic fibre textiles rope and braid.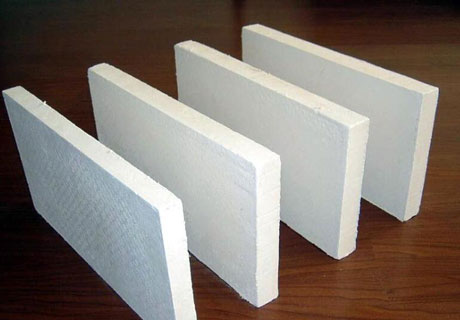 Due to the excellent insulating properties, low thermal conductivity, excellent thermal shock resistance, low heat storage capacity & inorganic (smoke free). Therefore, sunrise refractory ceramic fiber board for sale is used in machinery, metallurgy, chemical industry, petroleum, ceramics, etc. Glass, electronics, and other industries have been widely used. Such as:

1. Door seals and furnace curtains of all kinds of insulated industrial furnaces.
2, high-temperature flue, duct liner, expansion joints.
3, petrochemical equipment, containers, pipelines, high-temperature insulation, thermal insulation.
4, protective clothing, gloves, headgear, helmets, boots and so on under high-temperature environment.
5. Heat shields for automobile engines, parcels of heavy oil engine exhaust pipes, and composite brake friction pads for high-speed racing cars.
6. Seal packings and gaskets for pumps, compressors, and valves used to transport high-temperature liquids and gases.
7, high-temperature electrical insulation.
8, fire doors, fire curtains, fire blankets, spark plugs and insulation cover fire and other sewing products.
9. Insulation, insulation materials and brake friction pads used in aerospace and aviation industries.
10, cryogenic equipment, containers, piping insulation, parcels.
11. Thermal insulation and fireproof compartments in important places such as archives, vaults, safes in high-grade office buildings, and fire automatic fire curtains.
If you have any needs our help or are interested in our products, you can click online advisorychat with us online, or call our customer service telephone: 0086-0371-63838939. We will sincerely serve for you!