SEARCH
when you need our product,simply enter the name of the product you are looking for to continue.
Phone:0086-371-63838939
Email:sales@sunriserefr.com
Office Address: No.36 Fengchan Road Of Zhengzhou, Henan, China (Mainland)
Fiber module
Date:
2017-11-10 10:48
|
From:
Zhengzhou Sunrise Refractory
|
Author:
admin
Features:
• Low capacity, low heat capacity, greatly reducing furnace heating and cooling time
• Low thermal conductivity, effectively saving fuel costs in the furnace
• Good thermal shock resistance
Anti-airflow erosion
Good mechanical strength
• Built-in metal anchor, good safety performance
• Easy to install
Applications:
• Ceramics industry: shuttle kilns, tunnel kilns, kiln cars and so on
• Steel industry: heating furnace, continuous annealing furnace, kiln car, ladle lid and so on
• Heat treatment industry: annealing furnace, normalizing furnace, tempering furnace, soaking furnace, kiln car and so on
Petrochemical industry: ethylene cracking furnace, reformer, often / vacuum furnace, coke oven, flue and so on
Product Category Temperature: 1200-1425 ℃
Product Specifications:
• 300 × 300 × 150/200/250 / 300MM / block
Other special specifications can be customized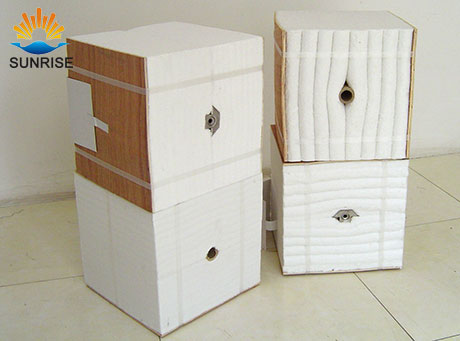 If you have any needs our help or are interested in our products, you can click online advisorychat with us online, or call our customer service telephone: 0086-0371-63838939. We will sincerely serve for you!