SEARCH
when you need our product,simply enter the name of the product you are looking for to continue.
Phone:0086-371-63838939
Email:sales@sunriserefr.com
Office Address: No.36 Fengchan Road Of Zhengzhou, Henan, China (Mainland)
The product features and application of ceramic fiber board
Date:
2017-08-10 17:03
|
From:
Zhengzhou Sunrise Refractory
|
Author:
admin
The features of
ceramic fiber board
:
1. High compressive strength, long service life.
2. Low heat capacity, low thermal conductivity.
3. Non-brittle material, good toughness.
4. Accurate size, good flatness.
5. Easy to install, easy to construct.
6. Excellent anti-wind erosion performance.
7. Continuous production, uniform fiber distribution, stable performance.
8. Excellent sound absorption and noise reduction performance.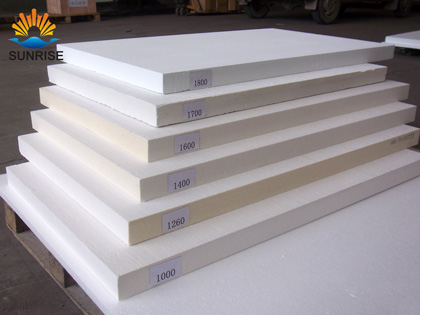 Typical application:
1. Iron and steel industry: expansion joints, back lining heat insulation, heat insulation slices and mold heat insulation.
2. Non-ferrous metal industry: back lining heat insulation material, tundish and tank cover, used for pouring copper and copper alloy.
3. Ceramic industry: light kiln car structure and the furnace hot surface lining, the furnace temperature zone separation and fire materials.
4. Glass industry: molten back lining heat insulation, burner block, glass tempering furnace lining.
5. Furnace construction: hot surface refractory material (instead of fiber blanket), heavy refractory material lining, expansion joints.
6. Light industry: lining of industrial and household boiler combustors.
7. Petrochemical industry: high temperature heating furnace lining of hot surface material.
8. Building materials industry: building exterior wall waterproof and moisture.
Ceramic fiber board is made by wet vacuum forming process, its strength is higher than fiber blanket and vacuum forming mat.
If you have any needs our help or are interested in our products, you can click online advisorychat with us online, or call our customer service telephone: 0086-0371-63838939. We will sincerely serve for you!